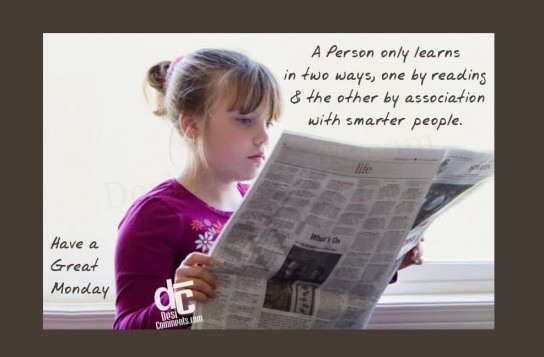 DesiComments.com
|
Monday
|
Forward this Picture
Five Tips to Follow When Commenting On Other Blogs
Think of your favorite blogs. Often, the quality of the content we can access is what makes us go back again and again to our favorite blogs. But what we often don't think of as being a part of that blog is the comment sections.
Many times, these comment sections can create content that is just as vibrant as the original post; however, it takes work on the part of the readers who choose to join in the conversation. If you want to be a worthwhile contributor to that discussion, then you should take a moment to go over some of these tips for commenting on blog posts. Please feel free to add your own in the comments section!
Respond Directly to the Post Content
If you respond directly to a point within the original post, then you can position yourself as someone who sincerely wants to take part in an extended discussion. This means that you should avoid any comments that simply praise the post or agree with it. Instead, try to add something new to the content, even if you agree.
Also consider incorporating a personal anecdote to further amplify a point made in the original post. In other words, all the comments you make should add something new to the conversation instead of simply getting your link into the thread. Remember, whatever you comment directly affects your blogging reputation.
Address Other Commenters
Remember that there are others interested in having the conversation as well. Don't ignore their points! In many comment applications, you can simply click 'reply to' under their comment to continue the conversation; however, if you don't have that option, address the commenters by name in your comment.
By directly address commenters, you can further foster discussion. This will establish you as someone who is interested in building connections with other bloggers.
Tastefully Include Link to Your Site
Don't simply comment to get the link back to your site. If it seems clear that you're using the comment thread to get a backlink, then people will probably ignore you. Instead, you should find a tasteful way to incorporate your site into your comment, either through using a commenting profile that automatically hyperlinks your site to your name, or by simply putting your site's url at the bottom of your comment after your signature.
In any case, make sure your comment's content is more important to you than your backlink. If this is not the case, then why are you interrupting everyone else?
Write Clear and Concise Comments
Make it easy on other readers to read and understand your comment. If you find yourself writing several paragraphs, then maybe you should consider using that content as a blog post on its own.
If you write a comment that is really long, then you risk having other readers skim it or pass over it altogether. You don't want that.
Subscribe to the Comment Thread
Finally, to make sure you can keep an eye on the conversation in a comment thread you should subscribe to it. There should be an option that will allow the site to email you when someone comments. That way you can be a part of the conversation as it goes on in real time.
There's nothing worse than adding to a comment thread long after the conversation is over. By then, your comments are probably irrelevant. Keep up-to-date; that way, other bloggers will see your enthusiasm and hopefully visit your own blog to find instant news and commentary.